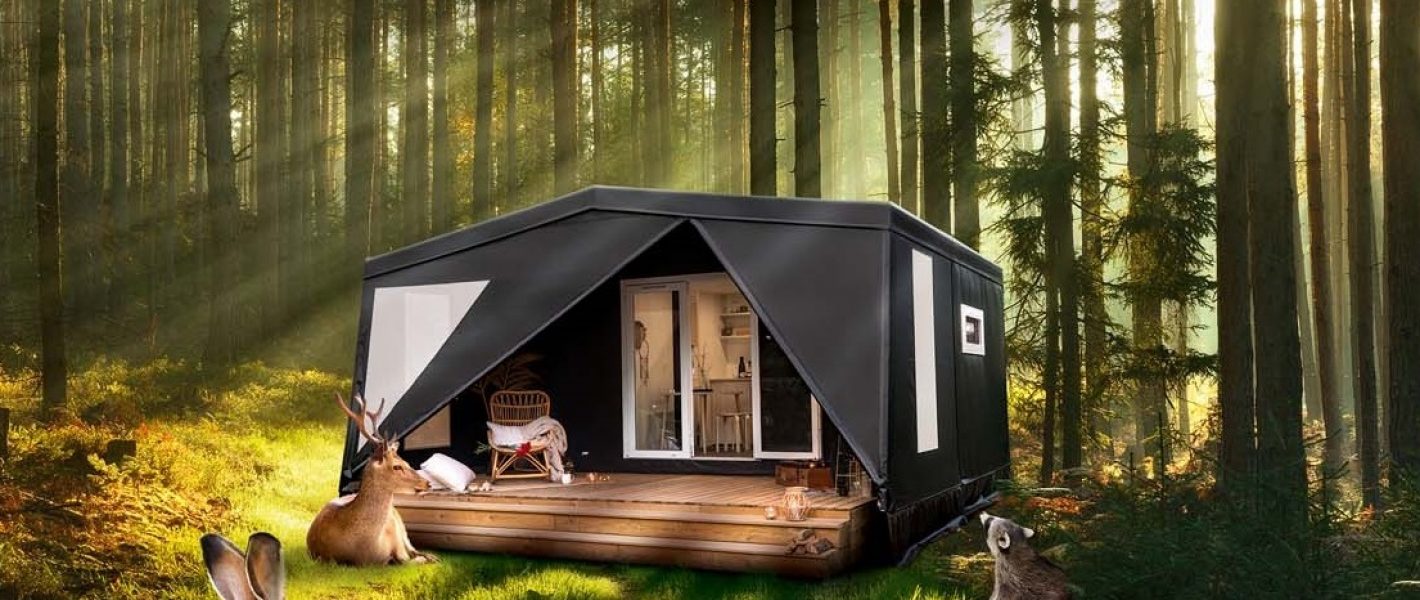 Coco Sweet range
Mobil-home

Coco Sweet range

The alternative ideal to tents and mobile homes approved by Nature. Coco Salle d'O offers the comfort of a shower room and toilet inside the accommodation unit, for campers who want everything under the same roof. Of course, Coco is also available without the shower room, in its original version, suited to your non-serviced pitches. And as security is key, all Coco units are fitted with double doors with safety glass which can be locked for full peace of mind.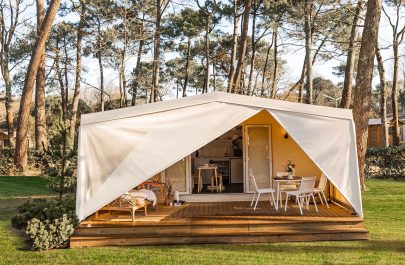 Table-top refrigerator
Worktop
Dining table with fixed legs and 4 stools
2 bench seats with polyvinyl bedspread that can be converted into 2 80 x 190 cm single beds
4 Natural White cushions in polyvinyl
Large 4-shelf storage unit with integrated socket
Blackout blind on the fixed bay . Hanging light
1 blackout curtain on rails on the partition wall of the living room
1 double bed 140 x 190 cm
1 bedside table
Large mirror
Large 4-shelf storage unit
Blackout blind
Hanging light
1 blackout curtain on rails on the partition of the living room.
OPTIONS :
Awning
Floor under awning
Electric hob to be installed
Microwave oven
Electric heater to be installed
Combination blind/mosquito net on bedroom window
140×190 cm Bultex mattress on bed
Models
Four Coco Sweets with two bedrooms. Optional awning and shower room. With or without a shower room, for serviced or non-serviced pitches, with liquorice- or vanilla-coloured canvas, take your pick to match your needs and your environment.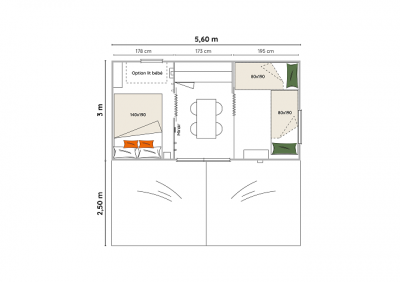 1 bedroom – sleeps 4
5.60 M length – 3 M width
3.35 M external height
Surface area 15.5 M²
Optional awning: 5.60 x 2.50 M, Surface area 13.9 M²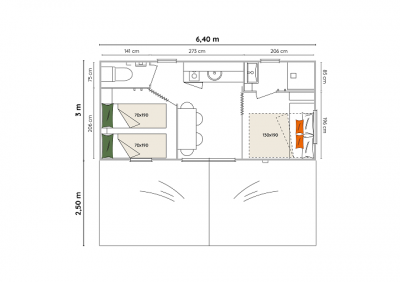 2 bedrooms – sleeps 4
6.35 M length – 3M width
3.40 M external height
Surface area 17.6 M²
Awning option: 6.35 x 2.50 M, Surface area 15.8 M²